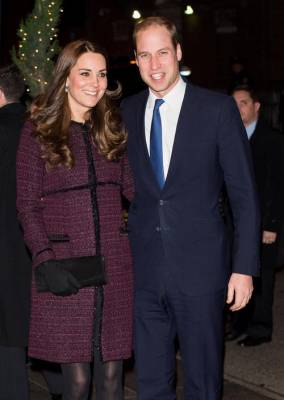 The Duke and Duchess of Cambridge arrive at their NYC hotel. Photo: Getty Images
The Duchess heads out for a private dinner. Photo: Getty Images
YOU READ THAT RIGHT!  PRINCE WILLIAM AND THE DUCHESS KATE ARE HERE IN THE BIG APPLE!
They're here!  And more stylish than ever!  Prince William and his almost five months pregnant wife looked every bit the perfect royal pair couple as they exited their motorcade Sunday evening.  He wore a crisp royal blue tailored suit and Duchess Kate Middleton looked absolutely stunning in her Mulberry Deep Violet boucle coat with metallic threading. The "Marina" jacket was custom made for her by Seraphine, (a maternity clothing brand that is a favorite of the expecting Duchess and she would often wear the brand while pregnant with Prince George.) She completed her look with a Stuart Weitzman clutch, Cornelia James gloves, and black suede booties. 
After settling down at the chic Carlyle Hotel for their 48-hour stay in New York City, the royals headed out to a private dinner to support the Royal Foundation.  Kate Middleton swapped her elegant coat for a black lace dress from Beulah London.  The Duchess completed the look with a pair of shoulder grazing earrings and a Mulberry clutch. She looked incredible – a vision from head to toe, with flawless glowing skin and perfectly coiffed hair.  Her personal hairdresser, Amanda Cook Tucker was there on hand to make sure that she looked her very best at all times.    
#WhatDoesYourHairSay? #KateMiddleton #NYCROYALVISIT #ROYALSINNYC #WILLIAMANDKATE #HAIR #FASHION #STYLE